Artikel mit dem Tag "enpedes"
31. März 2017
Since the Middle Ages Vienna has been a place of music. Not only known minstrels frequented the city then, but also the Vienna boys choir was already founded in 1498. The prime time of the city in this respect though was definitely the 18th and 19th c. when numerous composers lived and worked here to produce their immortal compositions. Even if most of them were not originally from here they chose Vienna as their working place due to all the noble families that lived here then and offered work...
30. April 2015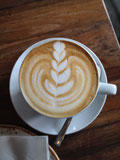 Do like the Viennese do and enjoy a Mélange or a Small black or brown coffee at one of the famous Viennese Cafés. Since the Otoman's siege of Vienna in 1683 the Viennese have known and enjoyed their coffee but only since the early 1800s the Viennese coffeehouses have become the cosy and elegant places they are still now. There are numerous traditional and also modern cafés which wait to be explored. The "Sacher" is where you can try the Original Sacher torte, a chocolate cake with apricot...