Explore where the viennese hang about
Tour the famous Viennese Cafés such as the Sacher, the Central or the Demel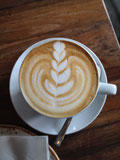 Do like the Viennese do and enjoy a Mélange or a Small black or brown coffee at one of the famous Viennese Cafés.
Since the Otoman's siege of Vienna in 1683 the Viennese have known and enjoyed their coffee but only since the early 1800s the Viennese coffeehouses have become the cosy and elegant places they are still now.
There are numerous traditional and also modern cafés which wait to be explored.
The "Sacher" is where you can try the Original Sacher torte, a chocolate cake with apricot lining and chocolate frosting of which the Sacher hotel has around 370000 cakes produced every year. Don't forget to have it with whipped cream this is how the Austrians do.
The "Central" is where known Austrian writers, such as Stefan Zweig or Peter Altenberg have got inspired to write even now popular books and at the "Sugar-bakery" Demel  empress Elisabeth - better known as Sisi - dropped by to enjoy sorbet or candy made of violets.
More modern style cafés have opened in Vienna, particularly nice ones near to the Vienna University, such as the "Café Francais" or the "Jonas Reinl"
Whichever you choose, a stop at a Viennese café is a must during your stay in Vienna!
Need help? Let me know!
I will be more than happy to take you on a guided tour to explore this typical Viennese tradition!
Yours, Renate Bauer - viennaforyou.com