There is a lot to see on a sightseeing tour in Austria's capital
This city is not too large, but definitely most interesting in many ways!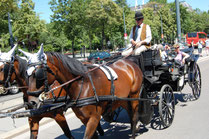 Vienna is known as the center of music, with so many of the famous composers having lived hier, such as Josef Haydn, Mozart, Beethoven or Johann Strauß, to just name a few.
Still today there are daily concerts taking place all through the year to celebrate these genii of music and for many of them a museum has been installed in one of their former homes for those who are interested in learning more about them.
If one is more into history, Vienna is an endless field after having been the center of the Habsburg's rule for 640 years. Hear the stories of the famous family members, such as Maria Theresia with her 16 children or Marie Antoinette, one of her 11 daughters. Learn about beautiful and tragic Sisi and unhappy Franz Josef the last but one ruling couple and visit their palaces, their art collections, see their jewels and silver or even golden dishes.
Tired after a city tour with this much of culture and history?
No problem, half of Vienna`s area is green space, so why not relax in one of the 900 gardens of the city, ride the oldest Ferries wheel in the world from 1897 in Vienna`s Prater park, have yourself taken around in a horse and buggy - a Fiaker - or take a tram to reach the winelands of the city, which are located just 25 min from the old town and where you can taste some of the awarded wines produced within the city`s limits.
Also don't forget to just stroll around and admire the beautiful architecture and to have a good Viennese coffee in one of the many traditional cafés!
There is so much to see in Vienna and viennaforyou.com will be more than pleased to take you on a tour and show you many different facets of Vienna!
Yours, Renate Bauer